Ep.10 – Breathing Through December - 12/2/2019
April 20, 2020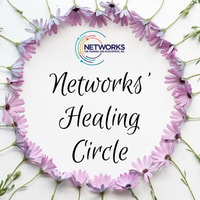 Season 2, Episode 10: Breathing Through December – 12/2/2019
Recording Date:
December 2, 2019
Transcript:
Download available here: https://bit.ly/2RzTt0D
Keywords: new decade, 2020, new year, time of sadness, holidays approaching, holiday stress, Thanksgiving, Christmas,
Episode summary: We are closing out a decade! In a month we welcome in 20201 Join us for a Relaxation and Breathing exercise designed to help us "breathe through" the sometimes stressful, sometimes joyous holiday season that December brings us.
Topical Index:
Introduction [00:07]
Welcoming a new decade [00:50]
Onslaught of the holidays [02:42]
Relaxation and Breathing Exercise [04:45]
Deep Breathing [07:30 ]
Quiet breathing [07:52 - 08:21]
Continued meditation [08:21]
Breathing Exercise - Breathing with Color [11:01]
In summary [12:34]
Closing [14:38]
_Subscribe to our podcast _
Find out more at https://networks-healing-circle.pinecast.co
This podcast is powered by Pinecast.