S6:E6 – A Salute to Wonderful June
part of the Healing Circle Podcast
August 30, 2023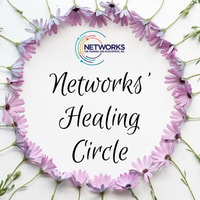 A Salute to Wonderful June
Recording Date: June 5, 2023
Transcripts: Download transcript HERE
Keywords: Healing Circle, Jen Williams, Networks for Training and Development, strawberry moon, Juno, Pride Month, summer solstice, rainbow meditation, relaxation, guided meditation
Summary: Jen Williams guides us through a salute to June and its many celebrations. Jen emphasized the many natural wonders such as the strawberry moon and summer solstice we experience in June, as well as our many holidays and celebrations scheduled for this month. She closes with a guided "rainbow meditation"..
Topical Index:
Introductions [00:00]
Celebrations of June [00:59]
Intro to guided meditation [02:05]
Rainbow Meditation [03:13]
Closing [20:11]
Subscribe to our podcast
Find out more at https://networks-healing-circle.pinecast.co
We welcome your feedback. Please take time to comment. https://pinecast.com/feedback/networks-healing-circle/d771fbd3-4529-48c2-8cae-7fcdd0defb29
This podcast is powered by Pinecast.