Ep.2 – Sharing Wisdom – 2/4/2019
Ram Dass, Frank Ostaseski, Roshi Joan Hallifax
April 10, 2020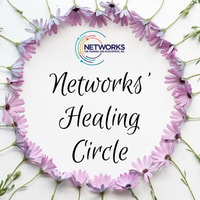 Season 2, Episode 2: Sharing Wisdom –
Ram Dass, Frank Ostaseski, Roshi Joan Hallifax
Recording Date:
February 4, 2019
Transcript:
Download available here: https://bit.ly/2XpJT48
Keywords: Baba Ram Dass, Frank Ostaseski, Roshi Joan Hallifax, Zen, hospice, heart chakra, guieded meditation, ahhhh chakra, chakra, breathing exercise
Episode Summary: This episode of Networks' Healing Circle shares remembrances of wisdom shared by Baba Ram Dass, Frank Ostaseski, and Roshi Joan Hallifax during a retreat. A guided meditation / breathing exercise is also shared.
Topical Index:
Introduction [00:00]
Ram Dass [04:20]
The Heart Chakra [06:26]
Breathing Exercise [07:23]
Roshi Joan Hallifax [12:29]
Frank Ostaseski [14:37]
Three Ways of Loving [18:53]
Closing [21:04] Subscribe to our podcast
Find out more at https://networks-healing-circle.pinecast.co
This podcast is powered by Pinecast.