S6:E5 – Spring Is Springing
August 16, 2023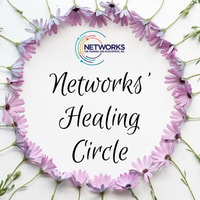 Spring Is Springing
Recording Date: May 1, 2023
Transcripts: Download transcript HERE
Keywords: Healing Circle, Jessica Stover, Networks for Training and Development, spring, signs of spring, time of growth, growth and renewal, change, spring cleaning, guided meditation
Summary: Jessica Stover leads today's healing circle with a conversation about Spring, this time of growth, and renewal, and change. Jessica explores the embracing of change, and taking the opportunity for a bit of "spring cleaning". She leads the group in a guided meditation.
Topical Index:
Introductions [00:00]
The clockwork of Spring [00:21]
Life changes [02:23]
Growth and rebirth [04:10]
Adapt, Accept, Move Forward [05:12]
Guided meditation [06:20]
Closing [19:08]
Subscribe to our podcast
Find out more at https://networks-healing-circle.pinecast.co
We would love to hear from you. Please feel free to leave a comment. https://pinecast.com/feedback/networks-healing-circle/7e35850f-cee0-44c0-a6fb-c54c06d8dbc2
This podcast is powered by Pinecast.