Ep.4 – What's In Your Backpack?
November 5, 2021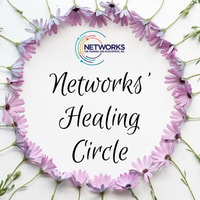 Episode 4:4 - What's In Your Backpack?
Recording Date: April 5, 2021
Transcript: Download available here: https://bit.ly/32Sz8u7 Keywords: Visualization, Letting Go, Calm, Relax, Mindfulness, Wellness Episode summary introduction: What's in your backpack? Are you carrying all of your fears, worries and anxieties around with you? Listen to Tracy Lapreziosa as she guides listeners through a visualization exercise all about letting go of the heavy stuff and making space for moving forward. Topical Index: Introduction [0:22] A Year Ago [0:56] Weight of the world [2:13] What's in your backpack? [4:37] ·      Link to book, The Path of the Dreamhealer: https://www.amazon.com/Path-Dreamhealer-Adam-McLeod-ebook/dp/B004478FVG What are you leaving behind? [6:40] Stones and bricks [8:54] Release [9:43] Universal energy [12:54] Gratitude [14:28] Closing [16:31]
Subscribe to our podcast.
Find out more at https://networks-healing-circle.pinecast.co
This podcast is powered by Pinecast.