S6:E4 – How Our Emotions Effect Us
July 28, 2023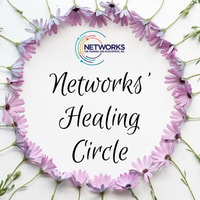 How Our Emotions Effect Us
Recording Date: April 3, 2023
Transcripts: Download transcript HERE
Keywords: Emotions, Healing Circle, Tracy Lapreziosa, Networks for Training and Development, Physiological responses, sensory experiences
Summary: Tracy leads a reflection on EMOTIONS, and how they effect not only our mental state, but our physical as well. Tracy discusses the impact emotions may have on us, and strategies we can use to counteract these effects, and just become more aware of the impact our emotions may have on us.
Topical Index:
Introductions [00:00]
Old habits die hard [00:45]
Sensory connections to emotions [02:59]
Strategies for living a life in tune [03:35]
Having compassion for ourselves and others [07:32]
Meditation exercise [08:59]
Closing [13:47]
Subscribe to our podcast
Find out more at https://networks-healing-circle.pinecast.co
This podcast is powered by Pinecast.