S5:E11 – A Simple way of Sending Love to Others
May 1, 2023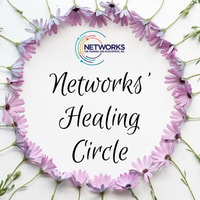 A Simple Way of Sending Love to Others
Recording Date: December 7, 2022
Transcript: Download Transcript HERE.
Summary: Rosa McAllister shares the history of the Healing Circle Calls, and their origins as a means of sharing with one another and supporting one another during times of need. These calls are held monthly, and are regularly uploaded into Online University. The calls started some ten years ago, and we have been recording them for the past five years. We invite you to learn a little more about these offerings as we close out season 5 of this podcast, and prepare for a new season.
Keywords: Healing Circle, Networks' Healing Circle Calls, reaching out, supporting one another, revisiting past calls
Topical Index:
Introductions [00:00]
Online University [00:20]
Origins of the Healing Circle [01:32]
Supporting one another [02:26]
The importance of helping one another [03:10]
Making this support something we do for all [05:59]
Recording the calls [08:84]
Revisiting past calls [09:14]
Meditation exercise [12:07]
Closing [20:07]
Subscribe to our podcast
Find out more at https://networks-healing-circle.pinecast.co
This podcast is powered by Pinecast.